February 18th, 2016 by Josh Polterock
We set out to conduct a social experiment of sorts, to host a hackathon to hack streaming BGP data. We had no idea we would get such an enthusiastic reaction from the community and that we would reach capacity. We were pleasantly surprised at the response to our invitations when 25 experts came to interact with 50 researchers and practitioners (30 of whom were graduate students). We felt honored to have participants from 15 countries around the world and experts from companies such as Cisco, Comcast, Google, Facebook and NTT, who came to share their knowledge and to help guide and assist our challenge teams.
Having so many domain experts from so many institutions and companies with deep technical understanding of the BGP ecosystem together in one room greatly increased the kinetic potential for what we might accomplish over the course of our two days.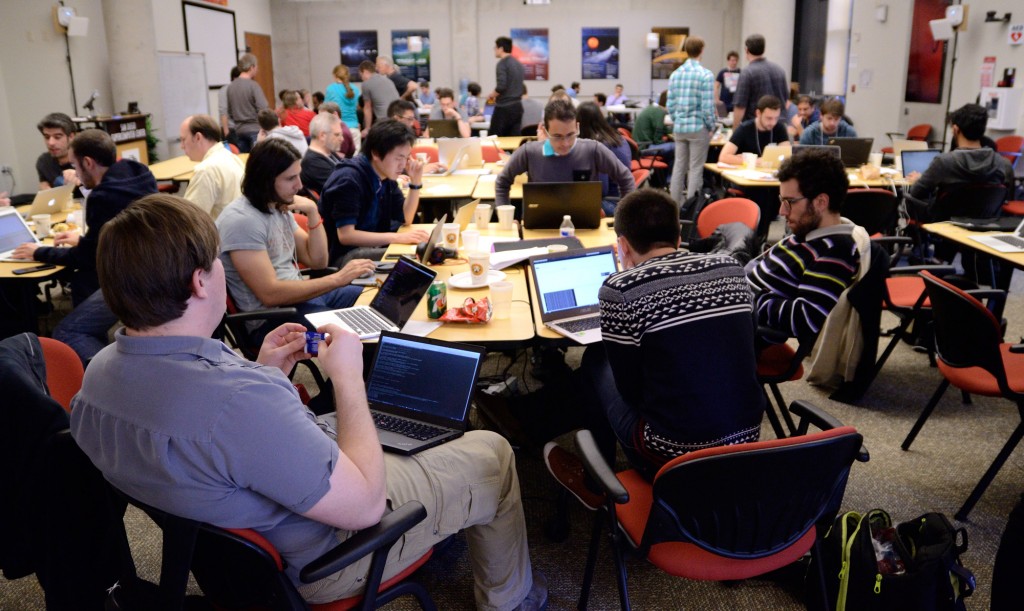 Our goal was to create a collaborative, resource rich, communal hacking facility for attendees to undertake challenges that would improve our understanding of the Internet routing infrastructure. Challenge participants, domain experts, and jurors, ninety people in total, came to the San Diego Supercomputer Center on the UC San Diego campus to take part in the first of its kind, CAIDA BGP Hackathon. The students, researchers, and experts came with a shared interest in development of tools to model, measure, and monitor the routing infrastructure of the Internet. They brought enthusiasm and a truly collaborative attitude to which we added live streaming BGP data sources and tools, HPC resources, coffee, authentic neapolitan pizza cooked on the spot and beer.
We organized the BGP Hackathon with a desire to stimulate interaction between operators and academic researchers, to build awareness and use of the publicly available platforms and new tools for analyzing BGP data (e.g.,PEERING and BGPStream), to come together as a community to share knowledge and experience and to identify important problems or impediments to improved understanding of Internet routing.
We were extremely pleased with the proposed challenges and the feedback we received from the community. Click here for the complete list of BGP-Hackathon challenges.
Congratulations to the four winning teams:
Ruwaifa Anwar (Stony Brook University, New York, US), Danilo Cicalese (Telecom ParisTech, FR), Nicolas Vivet (FNISA, FR), Kaname Nishizuka (NTT Communications, JP), Danilo Giordano (Politecnico di Torino, IT), Charles Brock (ICASA/NMT, US), and Bruno Machado (Universidade Federal de Minas Gerias, BR) for their work on BGP anomaly detection and event correlation.
Shane Alcock (University of Waikato, NZ) for his work on developing filtering capabilities for the BGPStream framework that allows an application to focus on Autonomous Systems of interest.
Ricardo Schmidt (University of Twente, NL), Wouter de Vries (University of Twente, NL), Azzam Alsudais (CU Boulder, US), Roya Ensafi (Princeton University, US), and Nick Wolff (OARnet, US) for their work on experiments with the PEERING testbed to better understand Anycast routing.
Massimo Candela (RIPE NCC, NL), Maite Gonzalez (NICLabs, Universidad de Chile, CL), Saif Hasan (Facebook, US) and Francesco Benedetto (Roma Tre University, IT) on their work to integrate BGPlay with BGPStream to enable real-time BGP monitoring services.
Other teams made progress on challenges that included: building a management interface for OpenConfig to improve network management; investigating instability between the data plane and the control plane; starting a platform for longitudinal study of propagation and deployment of RPKI based origin validation on the Internet; automating the AS Rank system from raw data retrieval; developing a per-AS Link-Rank algorithm to improve detection of route leaks or hijacks; or building a graph of the Internet topology with interactive map-like navigation functionality.
This incredible event could not have taken place without the generous support of our sponsors who enabled 33 travel grants, provided exemplary hosting facilities, added depth of expertise, and provided state-of-the-art network and computational resources in the form of SDSC's new Comet supercomputer.
ACM SIGCOMM
Cisco
Comcast
Department of Homeland Security
Google NetOps and Google Open Source Research Groups
The Internet Society
The National Science Foundation
The San Diego Supercomputer Center
The University of California, San Diego
A sincere thanks to all who spent time and energy to help make this first CAIDA BGP Hackathon such a success. We hope to maintain the great momentum we felt from the hackathon and look forward to similar events in the future.